The Mystery of Irma Vep.

The Mystery of Irma Vep is a play in two acts by Charles Ludlam.
BELOW: COSTUMES AND SET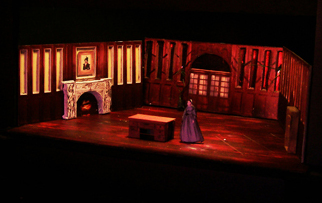 Below illustrates set transition throughout the play. As the tension and absurdity of the play increase, so do the surroundings.
I love designs that can move and change much as the actors do on stage. That was one of my motivations for this design. It would also facilitate a spectacle for the audience to enjoy as the actors made their many quick changes
off-stage.